I'm extremely excited about our latest product launch at Torbit called Torbit Insight. Insight is all about measuring the performance of your website and tying it into the business metrics you care about (conversion rate, bounce rate, etc). Up till now, the performance space has been pretty limited in ways to measure performance on your site. There are a lot of tools that do synthetic performance tests (a server in the cloud loads up your website and gives you some basic information about the performance of it), but these tools fail to measure what your real visitors are experiencing and often ignore things like caching and real world network conditions. The piece that has largely been missing is an easy way to measure the performance your actual visitors are experiencing.
Torbit Insight exists to answer this need. By adding a small asynchronous javascript snippet to your website we can measure the real timing of your website from your actual visitors. Every visitor and every pageview matters, so we make sure to sample them all. We then roll up all this data and give you a breadth of different ways to slice and dice the data. You can see full histograms, performance for different browsers, different geographic locations, and a whole lot more.

If that wasn't enough, we also have a ton of particularly awesome real time analytics so that you can see how your website is performing for visitors on your site as it happens. There just isn't anywhere else to get this kind of data.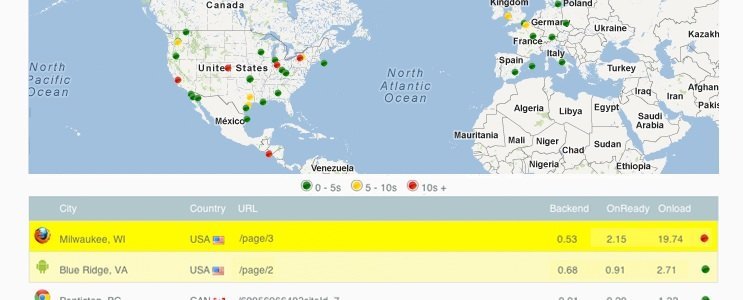 I'm extremely proud of the Torbit team and all the hard work that went into the product launch. If you want to help us build awesome stuff and make the web a better place be sure to check out our jobs page – we're hiring!
There's a much more in depth post announcing Insight on the Torbit blog. You can sign up for free and start measuring the performance of your site today.